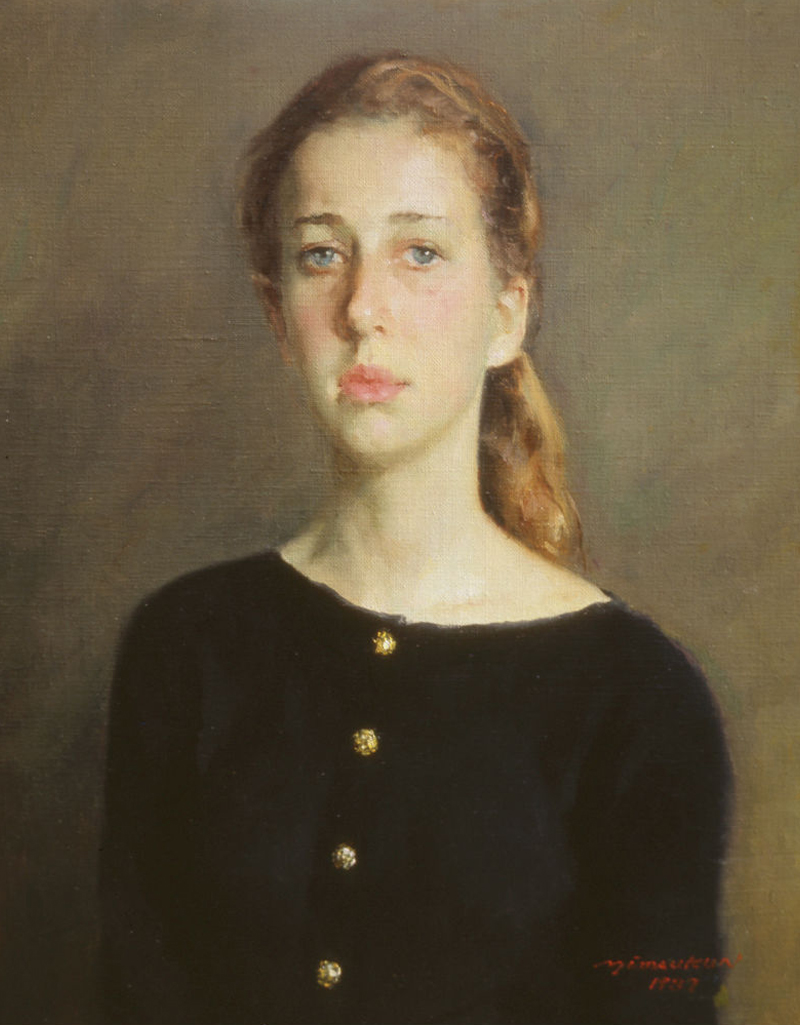 Christina
Oil on Canvas
61x51cm
1987
In 1986 and 1987 I traveled frequently between Hong Kong and Taiwan. In addition to studio teaching, I was busy with many portrait commissions and my oil painting style and techniques had evolved a great deal from my period in China.
"Christina" is quite representative of that period. She came to pose as a human figure painting model, but when I saw the eyes of this kindergarten teacher from a small Canadian town, they seemed as pure and innocent as the waters of a forest lake. I changed my mind at once and decided to capture this living beauty! The painting was made over two morning sessions. The window, the natural light—the black clothing, the brass buckle, the tied-up hair, the face and the mouth—every inch of this life was an exquisite delight . . .
Old Boatman
Oil on Canvas
53x41cm
1988
The Border Town, the masterpiece of contemporary Chinese author Shen Congwen, was based on the small town of Chatong in Xiangxi on the border with Guizhou and Sichuan. I made here one of the stops of my painting trip to Hunan Province in Central China. In 1988 the small town still retained much of its historic look, including stilted buildings, the stone-paved ferry landing, and blue brick arch bridges. I completed a number of paintings here, including Chatong Ferry Landing, River Bridge, and this one of Uncle Jiang, an old boatman. At the age of 78, Uncle Jiang was still working as a ferry boatman. He said he knew "Grandpa" from Shen Congwen's book – "Grandpa" had been the ferryman two miles upstream.
Miao Maiden
Pastel on Pastel Paper
60x50cm
2002
In the early 1990s I once made a plein-air painting of a female nude on pastel paper. When sanded pastel paper appeared a few years later, I bought some to experiment with. The result was quite good especially in terms of adhesion of pastel powder. It was therefore well-suited to my style of applying multiple coats of color. Another result from that experiment was a chorus of requests from students for me to teach pastel painting. My art classes in Taipei, Kaohsiung, and Tainan therefore provided instruction on pastel painting for quite a period of time. All of the content was based on indoor themes including still-life, figures, and nudes. These paintings from in-class demonstrations were eventually compiled together for The Pastel Journal and published by the Guangxi Arts Publishing House. This is one of the paintings from that period.
Lady in Shimmering Light
Oil on Canvas
65.5x50cm
2002
Zheng Aihua, the subject of this painting, was one of my students and also taught at her own studio as well. There was something different about her, so I invited her to model for a portrait. She came across as so natural, real, and forthright that I completed this painting of her in the same relaxed manner. This particular painting was submitted to an international salon hosted by the Green House Gallery as well as The Artist's Magazine cover competition in 2005. To my surprise, the painting won the grand prize in both competitions.
Mother
Oil on Canvas
75x47cm
1982
In 1960, during my second year at the Affiliated High School of the Guangzhou Academy of Fine Arts while I was home for the winter break, I made an oil painting of my mother. That painting was unfortunately lost during the Cultural Revolution. After my graduation, I was assigned to Zhaoqing City in Guangdong Province, which was very far away from my hometown in Hunan. I only received 12 days a year for personal leave including the travel time, so my trips home to Hunan were always rushed affairs with little time for painting. It was not until the 1980s that my mother, siblings, and I were all finally reunited one by one in Hong Kong. By that time, my mother was 72 years old. Two years later, we moved to slightly larger rental accommodations and I found time to paint this portrait of my mother.
My mother was born in Taoyuan County, Hunan. She attended the Zhounan Women's School in Changsha and, to escape from an arranged marriage, fled to Shanghai where she enrolled in the Daxia University. After that, she married, had children, and suffered through China's modern history. It was not until the mid-1980s that she was finally able to travel to Taiwan to sweep my father's tomb from whom she had been separated since 1949 due to the civil war. When she passed away in 1994, we fulfilled her final wish by laying her to rest alongside my father.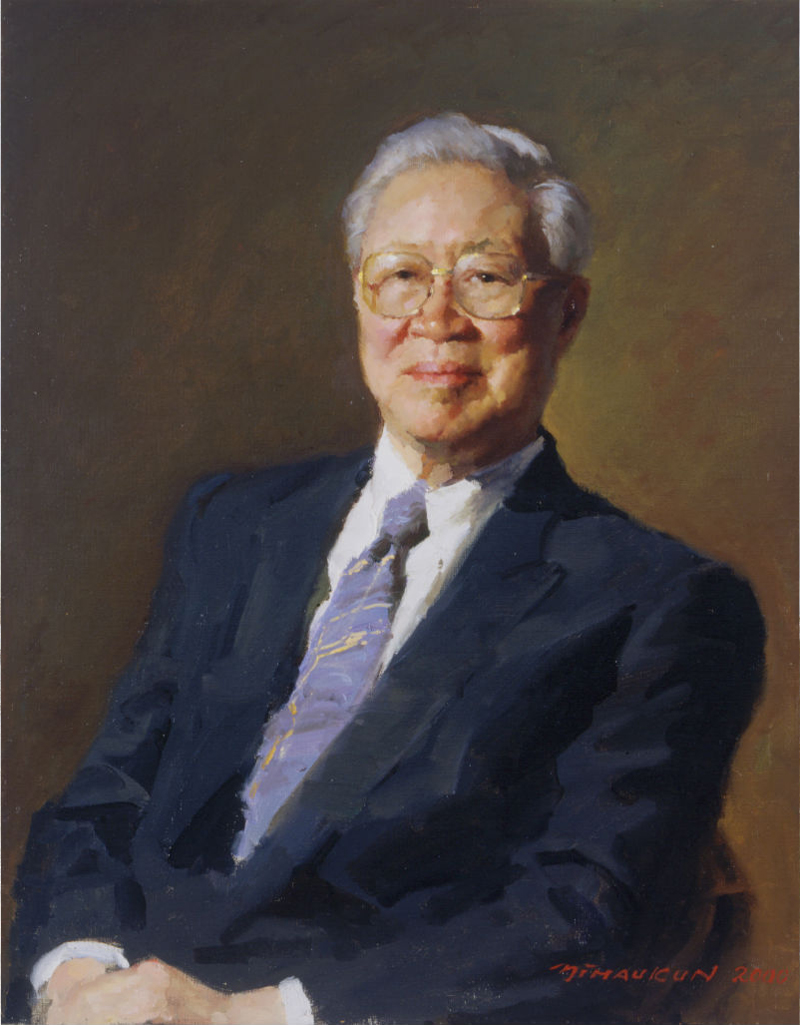 Pastor Zhou Lianhua
Oil on Canvas
73x61cm
2000
Zhou Lienhua had been the family chaplain to two generations of the Chiang family. He hosted the funerals for the both presidents and was highly respected in the Christian community.
This was my second painting of Pastor Zhou Lienhua. He announced his retirement at the age of 80 and passed on the baton of the Grace Baptist Church that he founded.
This painting was a commission from the Taipei Christian Church Association to thank Pastor Zhou for his contributions and to celebrate his retirement. The portrait was painted from life in my studio. During the painting process, Pastor Zhou remained very conversational and often burst out laughing.
The Taipei Christian Church Association organized a retirement ceremony for Pastor Zhou and when the master of ceremonies announced the presentation of the retirement gift, several indigenous high school students brought out this portrait and showed it to the gathered audience. Thunderous applause ensued and I was nearly overcome with emotion.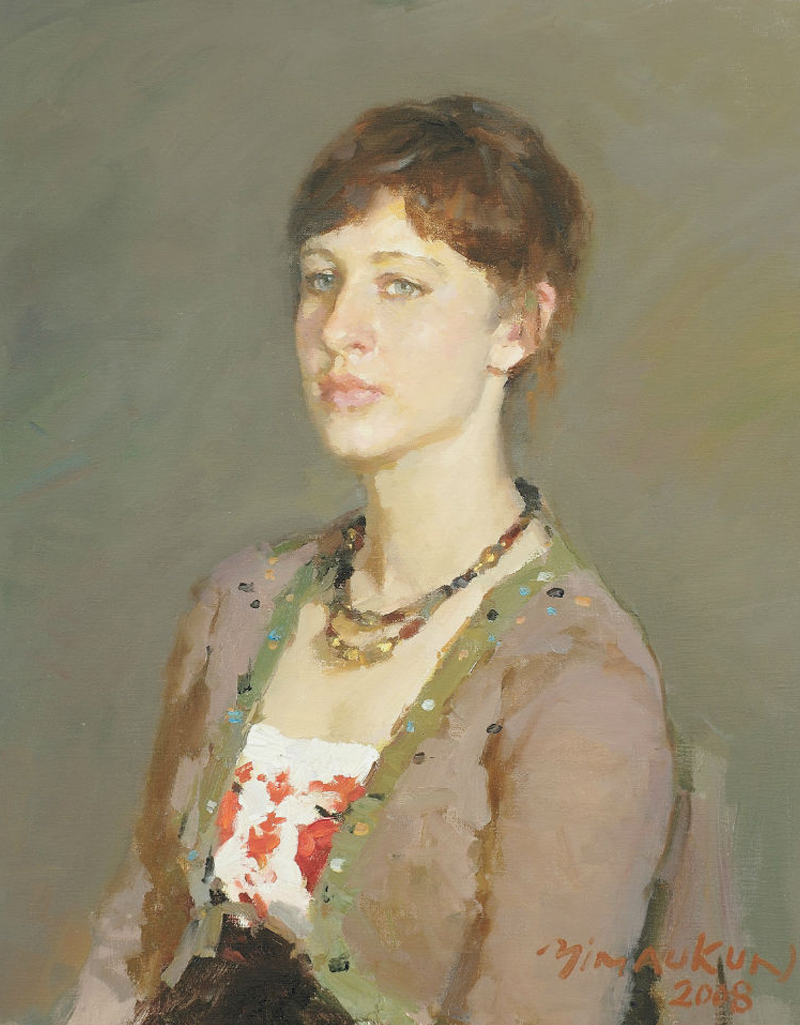 Ukrainian Girl
Oil on Canvas
65.5x50cm
2008
Tanya came to Taipei to study Chinese and to complete a Master's degree. There was a girlish shyness to her good manners and she often smiled without noticing. I would eventually ask her to model for several portraits that were very well received. I asked her to model for my painting classes as well.
This painting was made for the portrait section in the Oil Painting with Yim Mau-Kun video lecture series. The clothing and accessories were taken from the studio's collection while the undergarments were folk clothing that she brought from Ukraine. The result felt quite harmonious and buoyant. I used flat lighting for the setup to give the picture a bright, airy atmosphere.